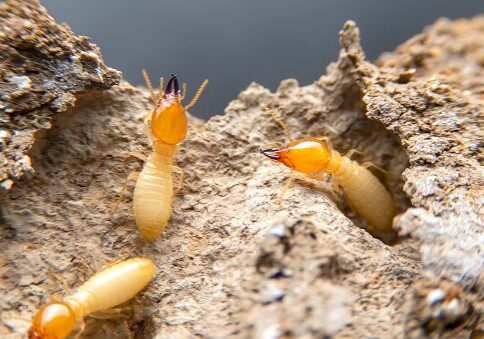 Termites are a
marjor problem
Termites are a major problem throughout the valley, causing millions of dollars in damage every year. These pests often times go unnoticed for months or even years, leaving very little evidence of their impact until its too late. All home sales require state inspections to approve funding and to inform potential buyers of pending costly issues.
The primary termite in our area is the subterranean termite. These termites create the recognizable dirt tubes found ascending our foundation walls or descending from our ceilings. These termites don't actually live in our homes, but in the adjacent soil. They require constant moisture, causing them to be constrained to these mud tubes to travel. They enter our homes to eat the soft wood construction material within our walls. These colonies can number into the millions and although each individual is small, the whole can cause serious damage if left untreated!
The traditional treatments involve trenching around the perimeter of the home and drilling access to under foundation slabs and garages to apply termiticides to the underlying soil. These treatments can typically be completed in 1 day and offer 7-10 years of estimated protection.
Bait treatment is a non-invasive application of bait stations spaced around the perimeter of your property. Foraging termites will find these stations, and like ants, direct others to feed on them. These baits do attract termites, but for the right reasons, and will eliminate colonies. These are typically inspected on 3-, 6-, or 12-month intervals based on the station and the homes conditions.
Interior treatments involve focused attention to critical areas in which there are breaks in the foundation such as where plumbing pipes penetrate. These are areas where subterranean termites can also access the home. These treatments can be done with spray applications to exposed wood, foam applications within walls, or drilling into the foundation to injected termiticide into the soil to prevent further entry.